For our first ever Chasing the Bib interview we had the pleasure of sitting down with Michelin starred Dutch chef Edwin Soumang, owner and head chef of restaurant ONE located in the south of the Netherlands in the city of Roermond.
Edwin and his wife Bethany opened ONE in the summer of 2007 and after only three years received their first star. Their restaurant is situated in the oldest industrial building of Roermond and breathes a contemporary urban yet sophisticated atmosphere in which Bethany and Edwin invite their guests to innovative signature cocktails and highly acclaimed new Dutch cuisine.

After being fans ourselves for a few years now – and one of us hailing from those same southern Dutch stomping grounds – we couldn't wait to chat with chef Soumang and find out how this creative genius came to be.
First things first: you're actually familiar with the yacht chef world, aren't you? 
"I am. Before opening ONE I worked in Ibiza on a private island for a while – back then supposedly the most expensive private island in the world – and one day one of the most prominent super yachts of that time anchored there and they happened to have a Dutch chef onboard. I was working with one of my best friends who is also Dutch, so we got into contact with this chef pretty quickly. At some point during their stay the owner of the yacht informed us that he was in the process of building a new yacht and asked me if I'd maybe be interested in being the chef on his old one. I thought about it, spoke to my wife about it and eventually said to her: 'Okay, if we don't open our own place right now, it's done.' So, we ended up choosing that path and I never actually set foot in the yacht chef world. But my friend who I was working with on the island did end up applying for the job and he has been a yacht chef based out of Fort Lauderdale for the past ten years now. So, I'm very familiar with the business, absolutely."
It's a small world. Alright, before we get into the chef's questions, I have one of my own which I'm always dying to know when I meet super chefs … What is your guilty food pleasure? 
"Jeez, haha! Uhm … Well, of course we usually try to eat quite healthy at home but when there's chocolate in the house, let's just say, it's not safe."
Very, very understandable. Any preference? 
"Well, I'm going to have to have be politically correct now since my parents own a chocolate shop and they have been working with Callebaut their whole lives basically, but let's just say, my preference is milk chocolate. And the best way to eat it is fresh from the chocolate machine. There's such a world of difference between fresh chocolate and chocolate that has been in foil for a few months. There's just no comparing."
Speaking of parents, born and raised in? 
"Beek. Small town located in the province of Limburg in the south of The Netherlands."
We know the answer to the next question already, but mom and dad did …? 
"They both ran the chocolate shop and finally retired this year. Now my brother runs it. He's been working there since he was sixteen years old and it only made sense that he would be the one continuing the family business. My mom and dad still help him out every now and then but now as their hobby."
So both sons ended up in the world of food. Do you think you ended up being a chef because of your parents?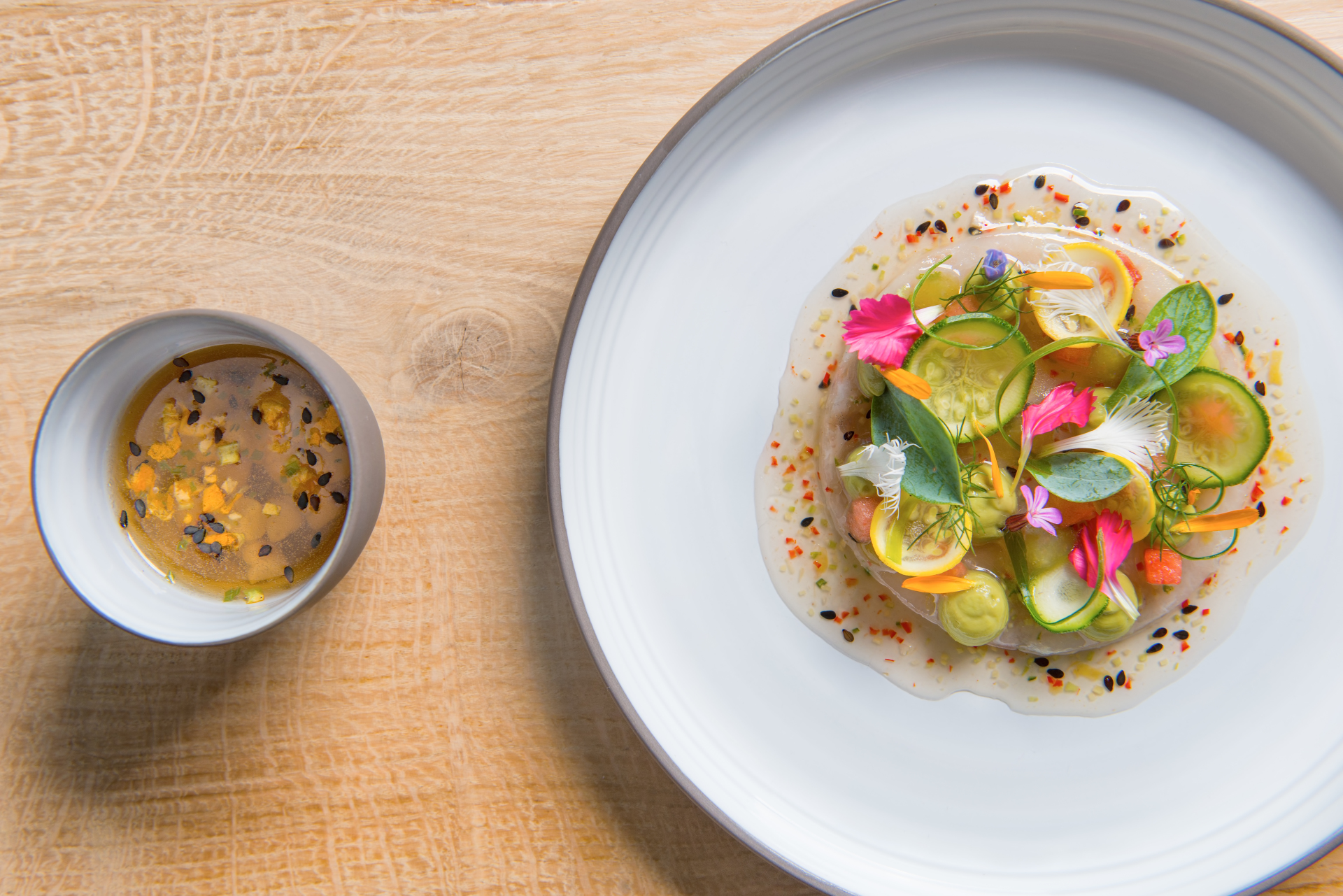 "In the end, yes. When I finished high school and had to choose what I wanted to do with the rest of my life a lot came from what I knew, which was helping at the shop come Christmas and Easter times – which sucked when I was a kid because all my friends got to lie around their houses watching TV while I was stuck pressing chocolate. And I remember when I was about to graduate I read about an open house at the Hospitality & Baking School in Wageningen, which was a school my father had always wanted to go to but never been able to. When I told him about it he suggested we go check it out and the moment we got there something clicked, I felt at home. Therefore, at age seventeen I moved to Wageningen and gave the world of restaurants and hotels a try. It didn't take me long to figure out that the kitchen was definitely my preferred domain. Not the front of the house, not the hotels, just put me in the kitchen please. So all in all my parents never forced me into this profession but they definitely had an influence."
And after that, straight to work? 
"Straight to work. My internships were in Amsterdam at 't Swarte Schaep – no longer existing – and after that De Echoput, which was a Michelin starred restaurant. And let's just say, once you enter the world of the stars it becomes all about that, all about the stars. But because I had studied hospitality it wasn't that easy for me to get a job in a Michelin starred establishment: in the eyes of the chefs there I lacked hands-on work experience. But luckily in the end the chef at Restaurant Der Bloasbalg – a one Michelin starred restaurant in the province of Limburg which unfortunately doesn't exist anymore either – took a chance on me. I worked there for a year and after that year I just had to work in a three star. Because at that time there were none in Holland, so of course – me being me – I had to work in one. I started writing dozens of letters to two or three starred restaurants in France asking if I could please come work for them and thankfully three starred Georges Blanc wrote me back and invited me for an internship – aka 'the pleasure of working for free'. I was over the moon and happy to pack up and go.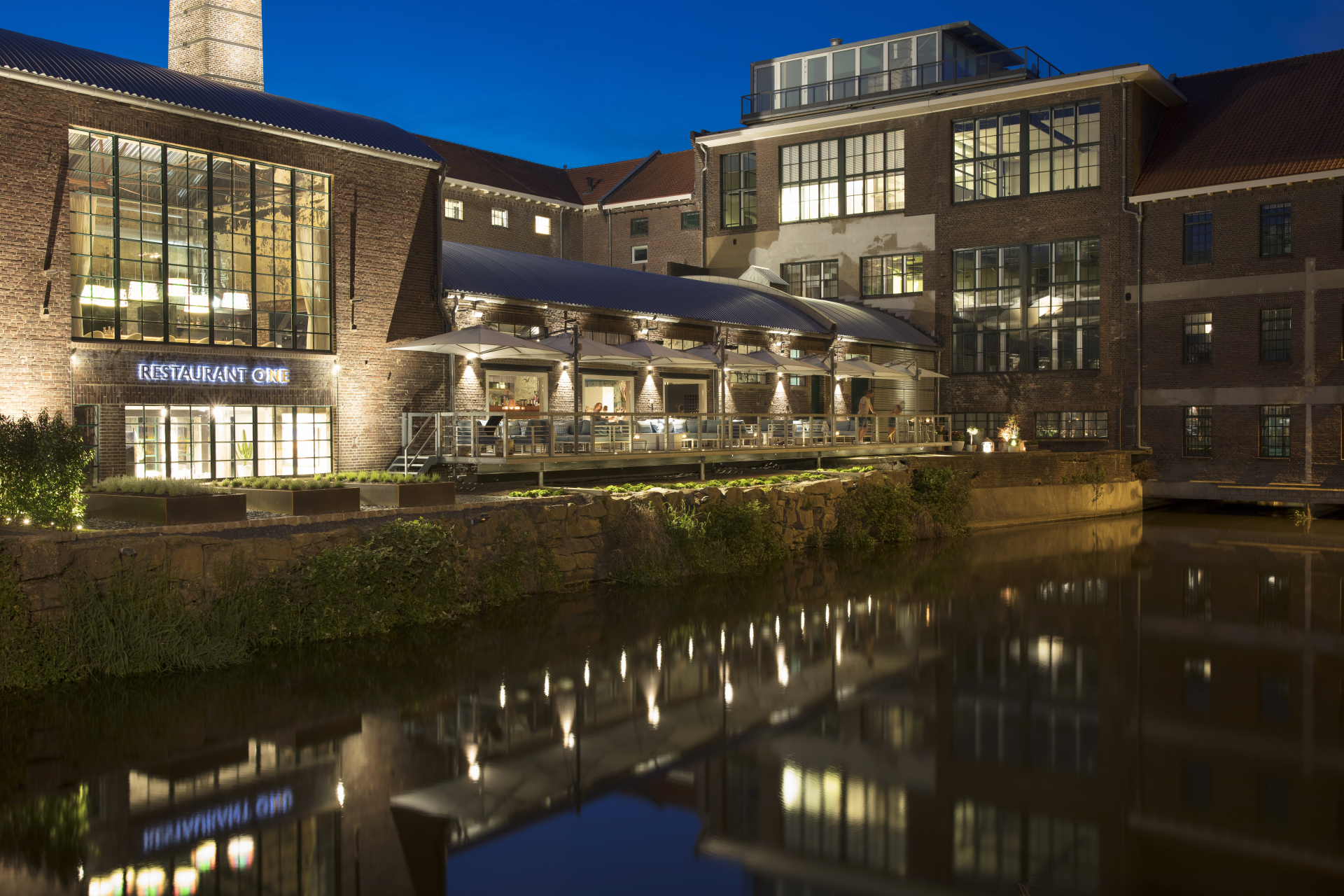 I worked there for three months and after that, in short, made my way to London to work under Michel Roux and at Le Gavroche for a while, then went to De Librije in Zwolle for a year and after that strapped on a backpack and set sail to Australia. It was there that I met my future wife and business partner Bethany, who happened to be also carrying around a backpack in an attempt to escape her motherland Canada for a bit. It was such an amazing experience that when my year there was up I decided to fly to Ibiza for work, then to Vancouver for a few months in a heli-ski lodge with Bethany, together back to Ibiza to the private island and after that finally back home to Holland to start our own restaurant: ONE."
Has the goal always been: star? 
"The main goal is always to fill up the dining room, but both Bethany and myself are absolutely people who always strive to do better today than we did yesterday. For example, in Australia I worked in a 5-star hotel for a day – yes, one whole day – and after just two hours in that kitchen my blood was almost boiling. There was such a lack of passion for food, everything was just pushed to the front, no one really tasted anything, it was sad to watch. I've never quit anything after a first date, but there I walked out after my eight hour shift and never went back. I believe in quality, in love for the products you work with and in creating something you can be proud of. And when you start doing that for yourself and on somewhat of a higher level, the stars will follow. So no, it's never been the main goal but completely unexpected I can't say it was either. It's what I've been taught and thus what I know."
And how was that day the phone call came in? 
"Yeah … [Big smile, red.] Very special. So many flowers. So much press. A madhouse really. And to be honest, at that moment I did not even expect it! Contrary to what I just said, haha! But at that time I honestly did not expect it. But when you hear that voice on the other side of the line, yeah, that's amazing. And the fact that now all of a sudden you're on this culinary map of the world, it's a fantastic feeling. Not gonna lie."
Best experience working under a chef? 
"De Librije. It wasn't one specific moment but it was such an amazing year working there. It was the first time I worked in a restaurant of that level where the atmosphere in the kitchen was just more relaxed. For instance, in London those kitchens were just incredibly hardcore and intense, but in Jonnie's kitchen it was a lot more quiet and peaceful. He – Jonnie Boer – never really had traditional training himself, he is mostly self-made and he really had us working as a team. So not only were we creating unbelievably amazing plates of food, we were also having a lot of fun while doing so. That really was a great year in my life. But also working in Sydney in the Opera House at Guillaume Bennelong's restaurant was a fantastic experience as well. He became best restaurant of Australia at that time and just being there, in the sunshine, watching the fireworks from the rooftop of the Opera House on New Year's Eve, it all was very special. But then again, backpacking through Australia is kind of like walking around with permanent pink sunglasses on your head, everything is bound to look just a little bit better. Haha! Working at De Librije was definitely the most eye opening and inspiring work experience of my life, hands down. And they just keep on going, they keep on getting better. Which for Dutch standards is really unheard of and for me as a chef is very inspiring."
What was your worst work experience? 
"Well, that day in the 5-star hotel was just … Yeah."
Noted. Your biggest inspiration to become a chef? 
"My biggest inspiration to become a chef? I don't know if it really happened that way. I think it's more of a feeling. If we're talking inspiring people or mentors, that's never really been my thing. Saying: 'Wow, that Heston Blumenthal, I really want to become like him.' No, I don't think I've ever been that kind of chef."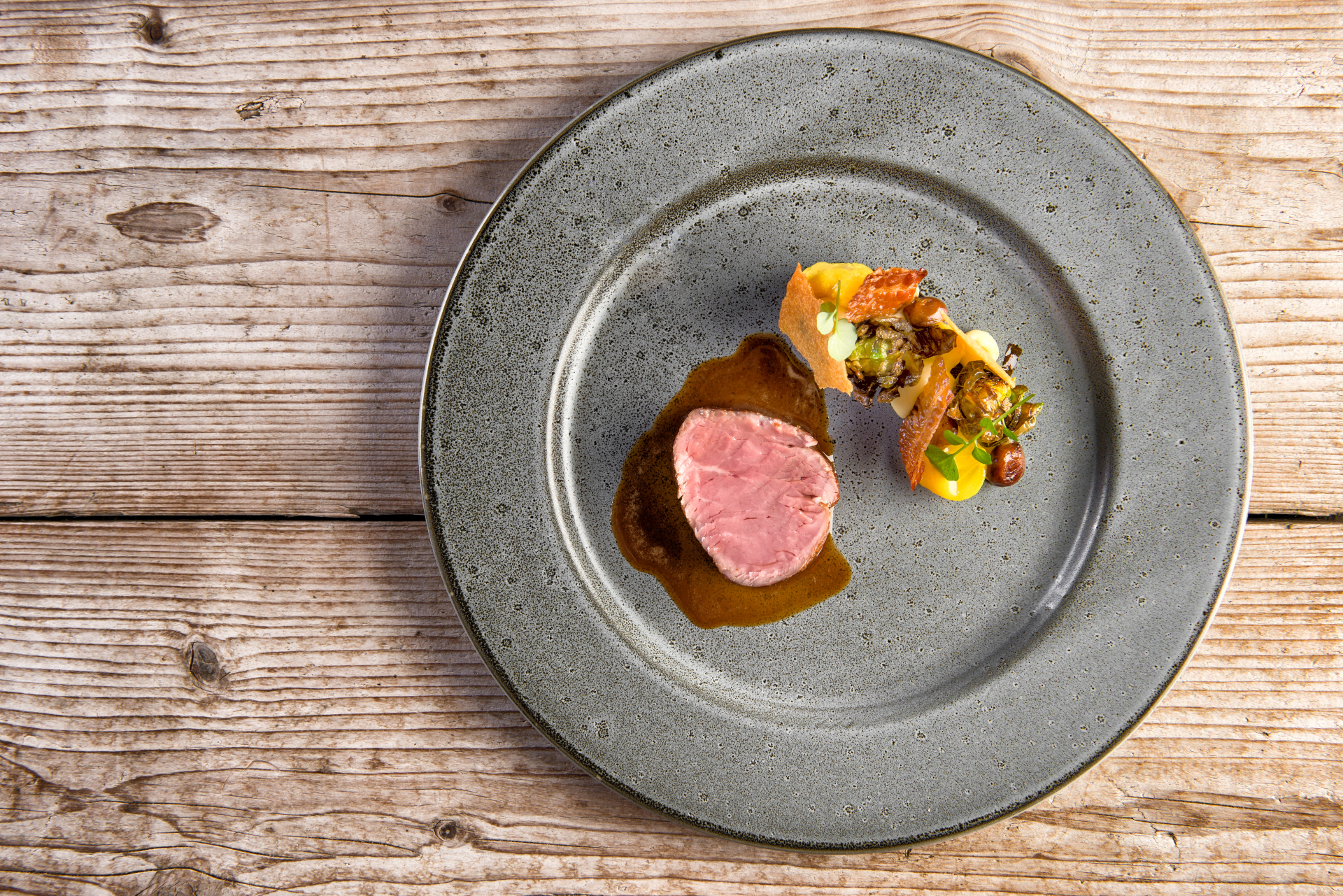 Did anyone teach you how to cook or did you just pick up the pots and pans and decided to teach yourself? 
"My mother and father were always cooking, but I don't think I ever observed them as a kid thinking: 'That's it! I want to become a chef!' The fact that they had a chocolate shop and from a young age I was hands-on working with food of course had an influence on me. I mean, when you grow up spending every Easter making little marzipan rabbits and pasting a couple hundred chocolate eggs together at your kitchen table, it definitely gives you more of a knowledge about working with food than the average human being. So, I'm sure that had its influence on me, but to say there was one specific person, not really, no."
Biggest mistake you've ever made as a chef? And I'm really talking exploding lasagnas. 
"Oh jeez, let me think … Well, when I was working at Le Gavroche in London one day I had seven beautiful legs of lamb roasting in the oven, except … I forgot. Think about it, this was the first place in England to ever receive three stars, chefs like Gordon Ramsay and Marco Pierre White all paid their dues in this kitchen and I was burning not just one but séven legs of lamb in their oven! You can imagine my level of panic when I found out and then realized that not only had I just burned those damn lamb legs, now I had to tell the chef about it. So – tail between my legs, trying not to throw up – I made my way over to him and thankfully he responded incredibly understanding. We found seven new ones, made 'seven hour lamb' out of the others and I could breathe again. But it was a tremendously important lesson for me to learn. Because imagine if I hadn't said anything and I had tried – which would've been impossible – to hide the fact that I burned those legs, had just thrown them out, made new ones and someone would've found out? Oh man, that kitchen would've been too small. Honesty is the way to go, always."
Speaking of burning, what do you consider to be the worst food trend ever? 
"I don't think I ever really understood fusion. And I don't know if it's the trend I didn't understand or if it's just the word itself, but all of sudden everything was fusion. Thankfully that era is done now, but for the longest time everyone had their own version of fusion on their menu and I'm pretty sure no-one really understood what it was. Don't get me wrong, I have nothing against fusing different cooking styles from different parts of the world together, but the fact that everything now had to be labeled fusion, I just honestly never got it."
Last supper? 
"I'd want to be together with Bethany and our daughter Lilly and to be honest, I'd probably be making something myself. Forest mushroom risotto for example. It's on our menu and it's so good. Little bit of truffle on top. The three of us. Done. But let's just hope that day never comes, okay?"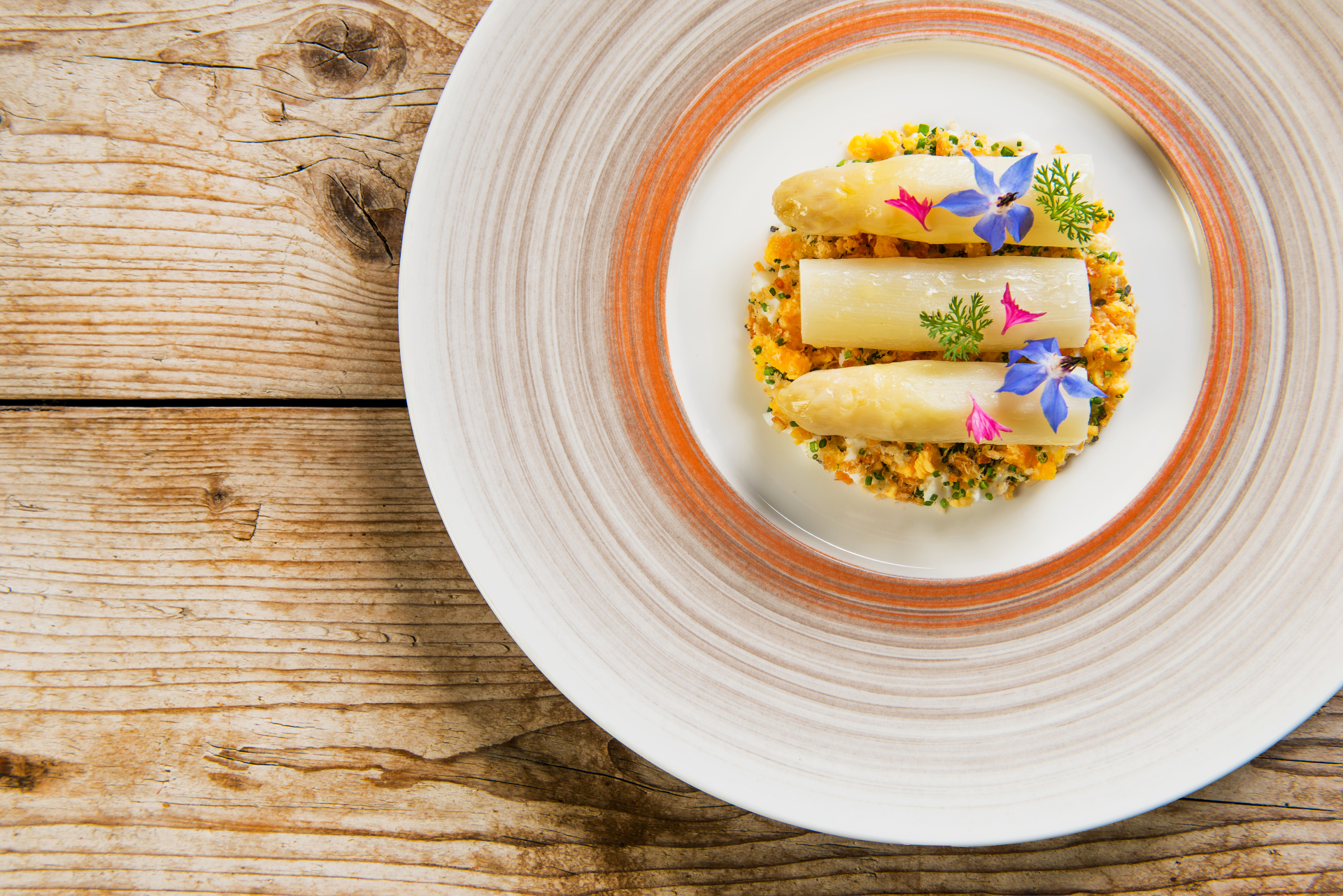 Amen. If there was someone on this planet – alive or dead – that you'd want to impress with a meal, who would it be? 
"Hmmm, I'm gonna have to say our Dutch king and queen. That would just be such a great honor. Oh, and right now I'd love to cook for Max Verstappen as well of course! I have such deep respect for someone who is that talented and driven, it would be very interesting to meet him. But number one: our royal couple."
And what would be on the menu? 
"Forrest mushroom risotto, haha! Other than that, pfff … You know what, can I be completely honest? If you'd ask me right now what our Christmas menu will look like I wouldn't be able to answer you. The closer I get to crunch time the better I know what I want to make. But we have an amazing kitchen garden so I'd probably pillage that and make a delicious proper Dutch meal for them."
Meat or fish? 
"Vegetables."
Ha! Do you have a favorite restaurant yourself? 
"So many, but my best meal ever was at The Fat Duck. I interned there for three weeks right before I opened my own restaurant and a few years ago we had the pleasure of going there for dinner: Holy … Just incredible."
What to do when not working? 
"Family time. My daughter is three years old and watching her discover the world is just beautiful. The three of us spending time together as a family, that's everything to me."
And what does the little one like to eat? 
"At this moment in time, everything!"
Everything?? 
"Everything. A few weeks ago we were having dinner at a Michelin starred restaurant and she honestly tried every course, every dish that came to the table she ate along with us. Very proud father moment."
Little chef in the making! Any big goals left for the future?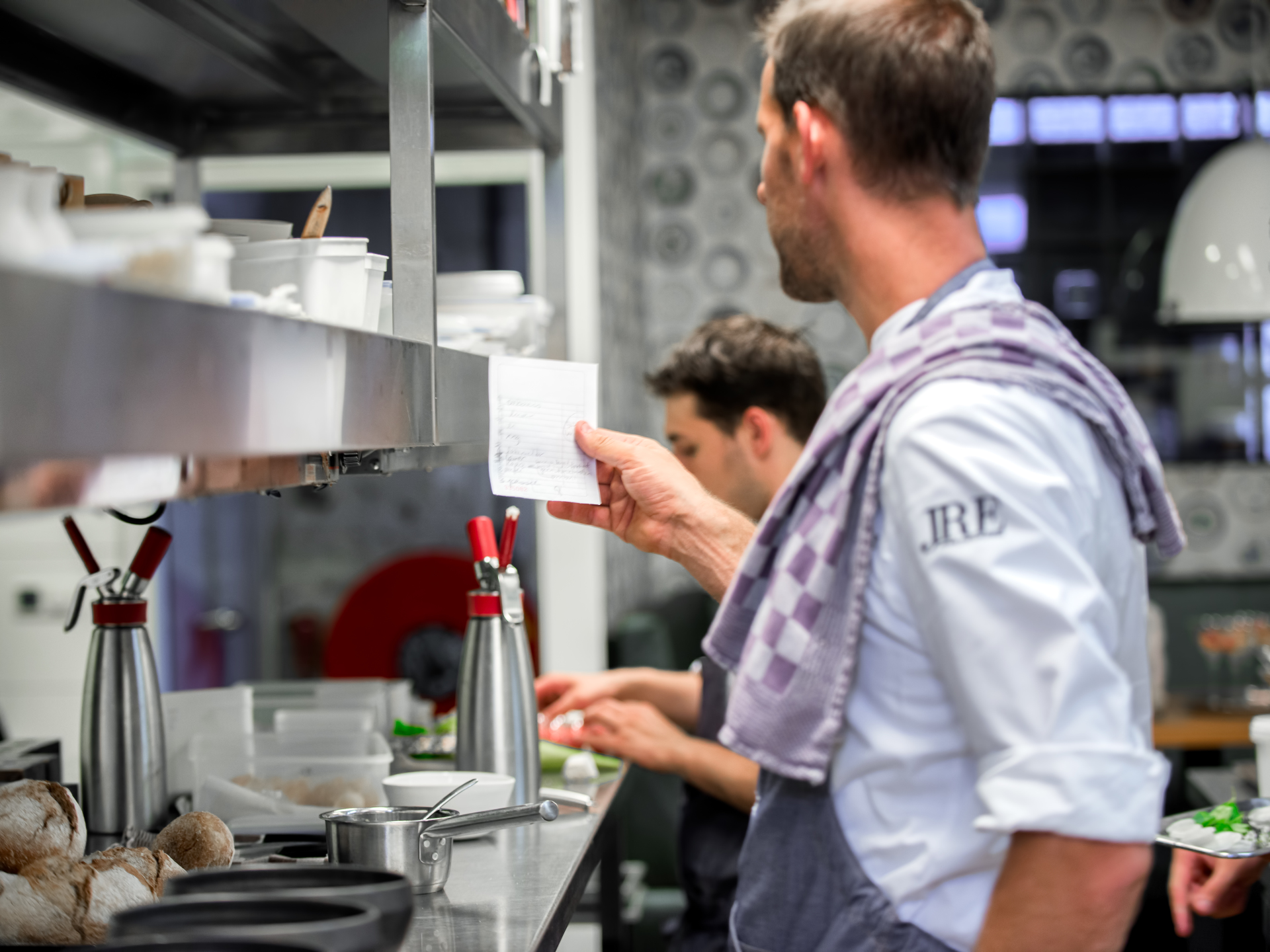 "There is so much more left to accomplish with our restaurant right now, we're not done here. Eventually we of course want ONE to be hugely successful. A second location, a second star, yes, all of that would be great but I'm not sure if that is our main focus right now. Our goal is to deliver the best we've ever done every single day and we've been doing so for ten years now. Luckily the last five years we've become much more stable as a business and even though I'm still very important to the restaurant right now, for the daily routine I'm becoming less and less so and that is a great thing, I'm very proud of that. Eventually it'd be amazing if the talent working here would be able to run the show without Bethany and myself being here every minute of the day. That's when we'd start traveling again I hope, it's the thing that brought us together and it would be great if in the future we can do more of it again."
Try Chef Edwin Soumang's preferred last supper ánd royal meal along with his many other amazing creations at restaurant ONE on your next visit to Holland. And in the meantime hit the ol' Instagram to admire more beautiful creations of @edwinsoumangat @restaurantone. OR, if you simply cannot wait … We at Provide & Supply have the absolute pleasure and privilege of having Chef Edwin share his delicious forest mushroom risotto recipe with us. Scroll on down!
Restaurant ONE
ECI 17
6041 MA Roermond
The Netherlands
+31 (0) 475 600 262
info@restaurantone.nl
www.restaurantone.nl 
Forest mushroom risotto with Parmesan cream (and optional fresh shaved truffle)
Marie-Thérèse Verbruggen For our first ever Chasing the Bib interview we had the pleasure of sitting down with Michelin starred Dutch chef Edwin Soumang, owner and head chef of restaurant ONE located in the south of the Netherlands in the city of Roermond... Edwin and his wife Bethany opened ONE in the summer of 2007 and after only three years received their first star.
Ingredients
For the risotto itself
1 shallot (finely chopped)
Splash of olive oil
200 gr Arborio risotto rice
100 gr white wine (dry)
700 ml chicken bouillon stock
400 gr mixed fresh forest mushrooms (trumpets, chanterelles, morels, porcini, pied de mouton, pied blue) 50 gr madeira
40 gr freshly grated Parmesan cheese
30 gr truffle butter
30 gr European butter (unsalted)
Salt
For the Parmesan cream
50 gr fresh cream
50 gr freshly grated Parmesan cheese
Salt
To top off
50 gr fresh truffle
Instructions
· Sauté the finely chopped shallot in a splash of olive oil without discoloring the shallots.
· After a few minutes add the risotto and sauté slightly.
· Add white wine.
· Prepare bouillon stock in a separate pot and keep warm.
· As soon as the white wine is almost reduced, add a little bouillon stock so risotto is barely covered. Stir occasionally and when the stock is almost reduced again add hot bouillon again.
· Keep repeating this process until the risotto is almost done (about 25 minutes).
· Sauté the mushrooms in a little bit of olive oil.
· Season and finish with a little madeira.
· Add the mushrooms to the risotto just before the risotto is done.
· Remove the risotto from the heat and add the grated parmesan cheese, butter and truffle butter. Season with salt.
· For the parmesan cream, boil the cream with a pinch of salt and stir in the grated parmesan.
· Spoon the risotto in the middle of the plate and put a little parmesan cream around it.
· Grate some fresh truffle over it and … enjoy one of the tastiest risottos out there.