Meet Chef Mateu Casañas, one of the three creatives behind the internationally recognized,

two Michelin starred restaurant Disfrutar in Barcelona. Mateu and his business partners Chef Oriol Castro and Chef Eduard Xatruch met over sixteen years ago when they all three worked in the kitchen of world-renowned restaurant elBulli. 
Between 1998 and the closure of elBulli in July of 2011 Mateu, Oriol and Eduard were part of the creative team and held top positions in the restaurant kitchen, together with Albert and Ferran Adrià. When the restaurant closed its doors, the three Spanish chefs decided to become business partners and bring to life their own restaurant: Compartir, located in Cadaques on the Spanish Costa Brava. In December of 2014 they added Disfrutar to their restaurant line-up, a more avant-garde establishment with strong Mediterranean roots located in Barcelona.
Fast forward to 2018 and Disfrutar has reached number 55 on the list 51-100 of The World's 50 Best Restaurants and has won the "Miele One To Watch" Award 2017 ánd just received its second star in the Michelin Guide 2018. However, in the words of Chef Mateu Casañas, all these three chefs truly care about is creating great tasting food and telling an honest story while doing so.
Disfrutar creates avant-garde, creative cuisine with strong Mediterranean roots. Do explain.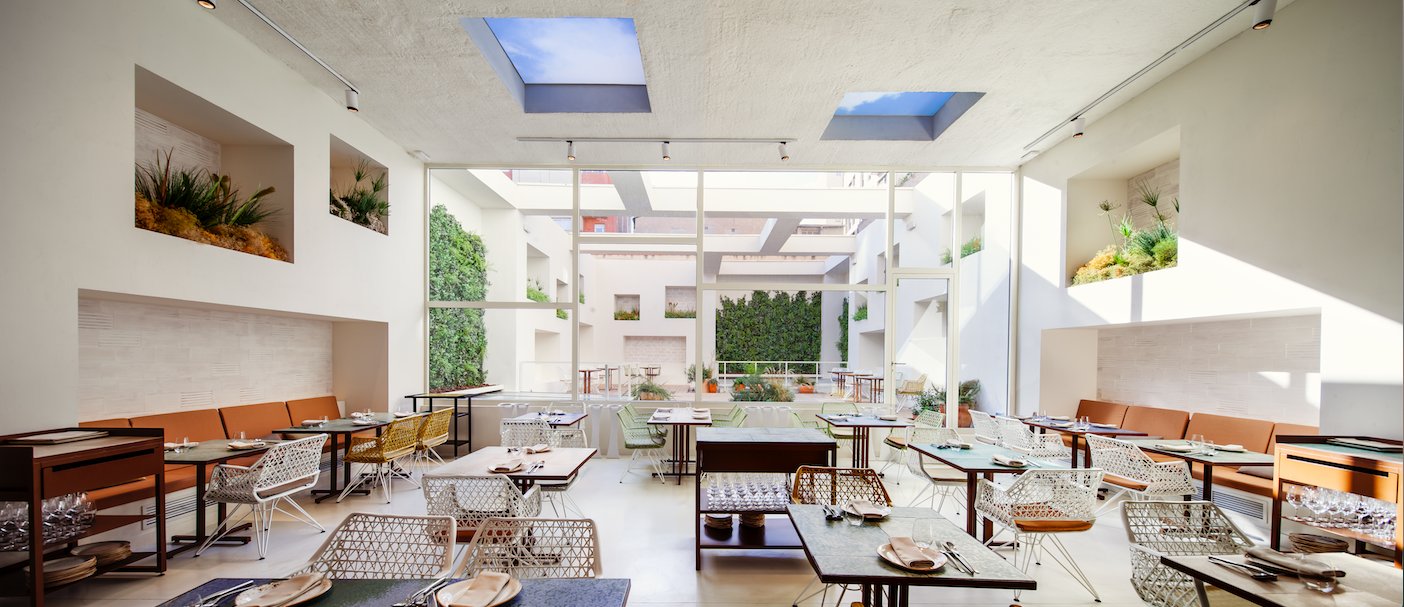 "Oriol is from the Barcelona coast, Eduard is from the Tarragona coast and I'm from the Costa Brava. So, needless to say, we have the Mediterranean in our blood. We know the products, the land, the traditional recipes, all of it. When we cook in Disfrutar it's only normal we defer to this knowledge and technique, and to the traditional dishes from the Mediterranean coast, because it's who we are. The core of our dishes is always products with its origin in the Mediterranean – fresh tomatoes, basil, olive oil, mozzarella, peanuts, raisins, rosemary, thyme – but we never close the window to working with special ingredients from other countries. From Japan for instance, or from Mexico. Our goal is to showcase the authentic flavor of the Med, to cook what we know but to also incorporate different influences from around the world. In the Mexican cuisine we can find a lot of similarity in taste to ours because they also use flavors from the earth. The Japanese culture on the other hand is very different, it's a very minimalistic cuisine, very clean in its flavors. It's so remarkable to work with soy, umami or miso. But no matter what we experiment with, our focus is always to elevate and compliment the natural flavors of the products used."
What is your favorite dish on the menu right now?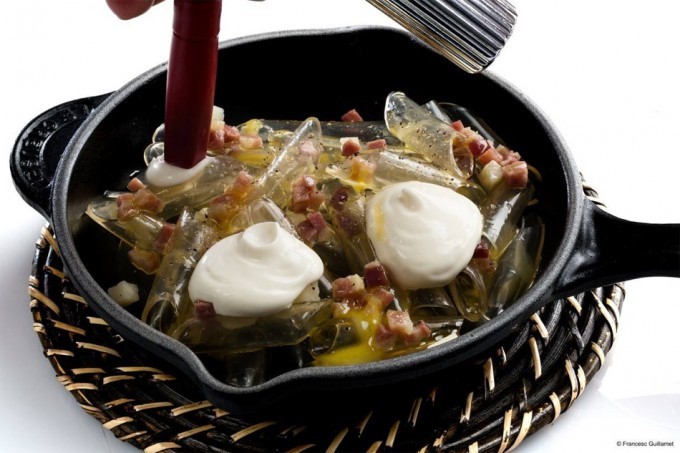 "Uff, that's a very difficult one. I think it's a dish we had on the menu when we opened in 2014 and we currently keep on the classic menu: Macarrones a la Carbonara [Carbonara macaroni]. It's a dish that really explains us as a restaurant. It's a traditional dish which you can eat all around the world – from Tokyo to Las Vegas – but we put a different spin on it. We tried to create a different pasta experimenting with different flowers from around the world and ending up with a penne made from a ham consommé gelatin – it's actually see-through. Then we created a smoked bacon and egg yolk Carbonara cream to accompany. When you close your eyes and taste the dish you really are eating an al dente pasta with a Carbonara sauce, but with a completely new way of understanding pasta, of understanding the sauce and an overall new way of understanding a traditional recipe. And that's what we do, we use traditional recipes and bring them to contemporary times. Not deconstructed, just updated in the best way possible and always by putting flavor first."
Where were you born and raised?
"I am from Roses, a beautiful village on the ocean north of Barcelona. Eduard is born in Vila-seca and Oriol in Sitges."
What did your mother and father do? 
"My parents have a little restaurant on the beach in Roses. One is in the kitchen, the other one helps out a few days a week."
Is that how you got your start as a chef?
"Yes, that's where I started. But I'm not sure how much my parents pushed me into it, I feel it was more a casualty of life. For instance, Eduard has always wanted to be a chef, ever since he was little he told his parents: 'I want to be a chef, I want to be a chef, I want to be a chef.' And thus, he became a great chef. Oriol was studying but decided to change course and went to culinary school. Upon graduating he won a competition of which the winner was granted two days in the elBulli kitchen. Those two days turned into seventeen years. My story is a little different: I was studying, I didn't like it too much, I went to work in my parent's restaurant and one day Ferran [Adrià] – who is a very good friend of my family – came in and and invited me to come work in his kitchen for a summer. And that's what I did. And the sixteen years after that as well. Haha."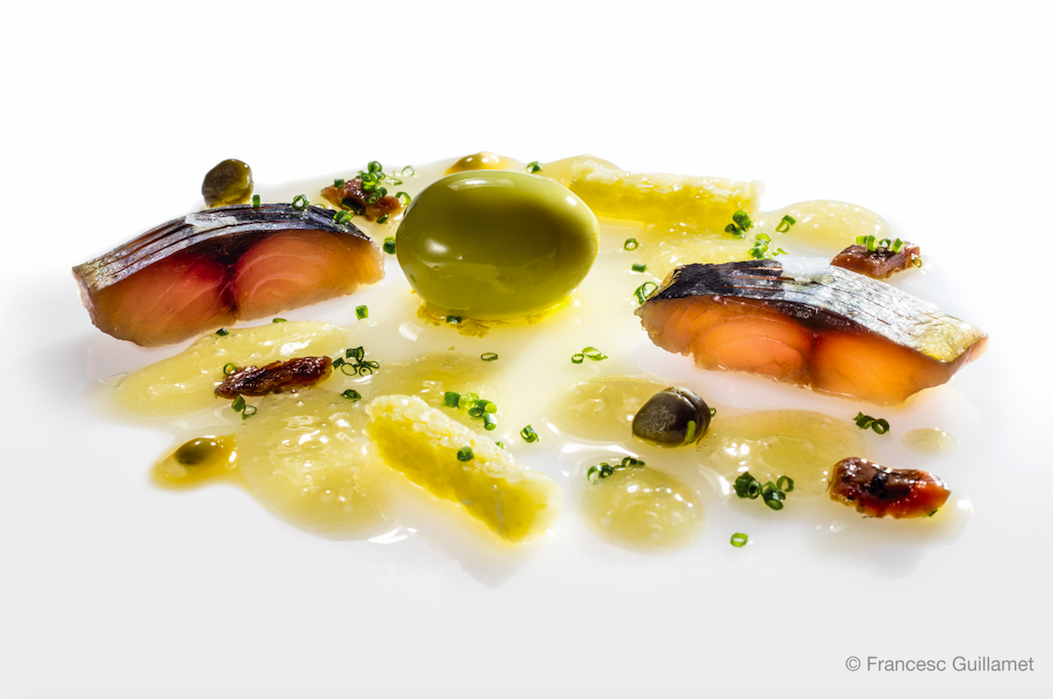 And after seventeen years you all three decided to venture off on your own, together.
"Yes. Oriol started at elBulli in '96, me in '97 and Eduard in '99. Together we closed elBulli in 2011 and then started our own journey together."
Was it an organic decision to make? 
"When we finished at elBulli we had spent so many years working together, we were like a well oiled machine. Each of us represented a crucial part of the mechanics. We knew exactly how the other was, each other's strengths, weaknesses and we complimented each other in our own unique ways. It only made sense for us to continue our work together and see how much greater of a machine we could become. And to this day, six years in, we are all three still incredibly happy to have made this decision."
No fights, ever? 
"From the beginning we knew that to make our collaboration a success, we all three had to be involved in every major decision that was to be made. We have to be a united front, always. And we need to work in the kitchen every day to not lose touch with techniques, or with the other chefs or with our products."
So, even when creating recipes no one takes the lead?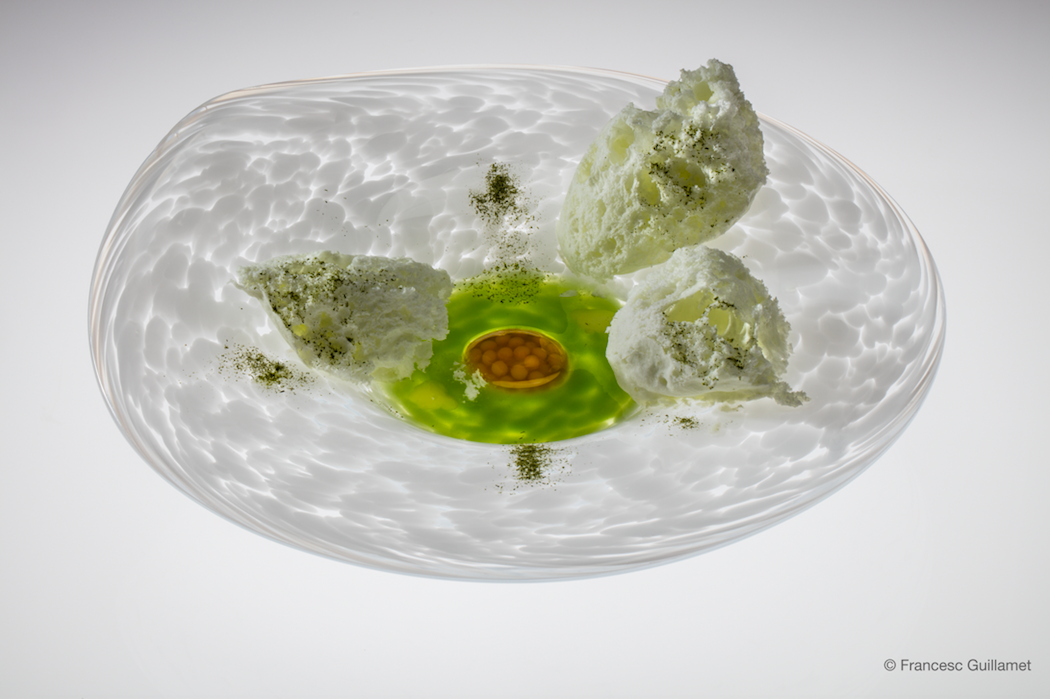 "When you're dedicated to being in the kitchen every day you create the chance to be inspired every day. When one starts with an idea the other can get inspired and add on to the idea, then the other adds his touch again and so on and so forth. Finally you end up with a really great, collaborative recipe. The next step is to have this dish form a dialogue with the other dishes on the menu before it hits the restaurant floor. You can have the best ten plates in the world but if they don't speak to one another, you cannot use them in the same menu. We want to tell you a story with our menu."
Has either of the other chefs ever made a dish you really didn't like? 
"Well … [smiles], I'm not a huge fan of offal. Let's just leave it at that."
Do you ever go out for dinner the three of you?
"We have absolutely no time. As a matter of fact, we had our Christmas staff party in December and I think that was the second time this year we actually sat down and had a meal together. We were so happy. It's the only time we get to enjoy and just hang out and talk outside of the kitchen. Because we have two restaurants in two different places we are always on the road trying to make sure one of us is present at all times. But every day we speak. Whether it's in person or via Skype, we're in constant communication. My telephone is burning every day."
What do you enjoy doing on your days off?   
"Go to the sea. Diving, sailing, fishing. I love being in and on the water."
If you hadn't become a chef, what do you think you would be doing right now?
"Maybe be a marine biologist? Like I said, I kind of like the ocean."
What has been your favorite dish you've ever made, inside or outside a restaurant kitchen?
"My mother's Suquet – which I can do just a little bit better, just a bit. The beauty of receiving information from another generation and understanding where it's coming from, is that you can actually do something to keep it around for many more years to come. Suquet is a regional Catalan fish stew which is made with potatoes, tomatoes, parsley and fresh fish. I love it"
Who would you be most honored to have as a guest at your dinner table?
"My two fellow owners Oriol and Eduard. We never get to cook for one another socially and when you cook for people you've been working with for twenty years, it really teaches you a lot about each other again."
What would you make? 
"If a product is fresh, simplicity is always the way to go. I'd probably throw a nice, freshly caught fish on the grill with some olive oil, salt and pepper. That's it."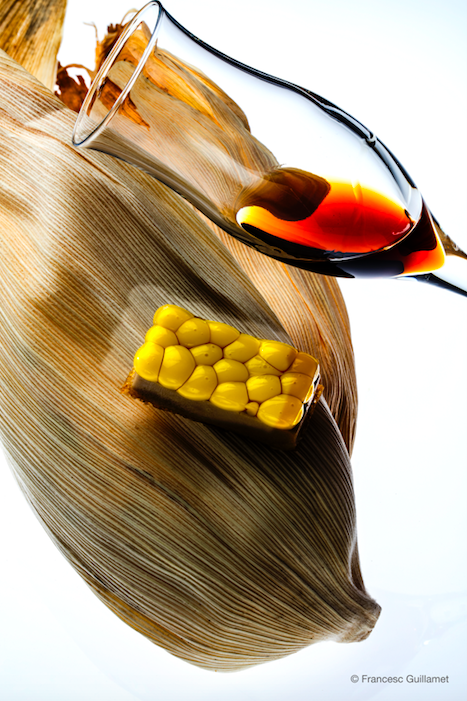 Guilty food pleasure?
"[Laughing]  Spaghetti with tomato sauce from a jar… Cold. Sorry."
Worst food trend to have ever existed?
"None. You can learn something from everything. As horrible as it may be, there is always something to be learned. Just like in life, from every bad situation or experience in life you can always learn something."
Rankings, awards, accolades … How necessary are they?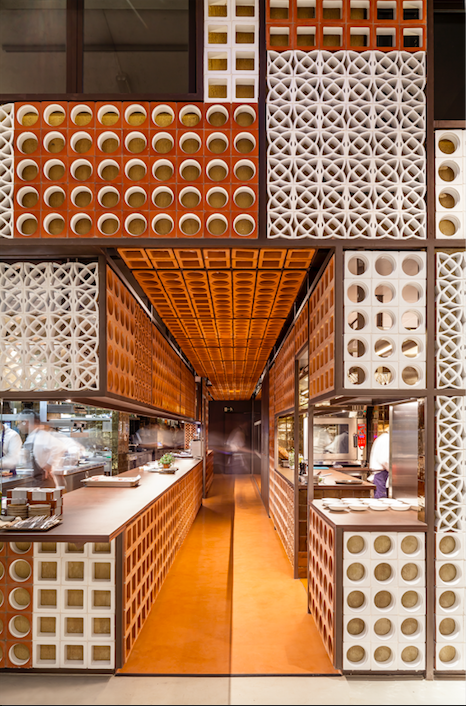 "More than for me – or for Eduard or Oriol – it's really important for the company. When you build a project this size at the age we did, you need recognition in order to keep going every day. We can talk about the recipes, the integrity of the products, the kitchen concept, but at the end of the day if the numbers don't add up there won't be a restaurant to create any recipes in. So, we need recognition in order to keep going the way we are, and whenever we receive it we are very happy of course. But only for two or three hours, after that it's back to work, back to the place that makes us happiest: the kitchen."
Any big goals left?
"At the moment we're too busy with Compartir and Disfrutar to even think about a next restaurant. We learned at elBulli that in order to actually express something with your food you have to stay in the kitchen, working and thinking about how your food arrives to your guests. At this very moment in time we're doing exactly that every single day, and it keeps us very busy and very happy."
Disfrutar opens Tuesday through Saturday for lunch and dinner. Reserve your spot online for your next Barcelona visit and find them on Instagram @disfrutarbcnfor some drool-worthy shots in the meantime.
And scroll down to find Chef Casañas' family recipe forSuquet de Clavellada, which we may exclusively share with you!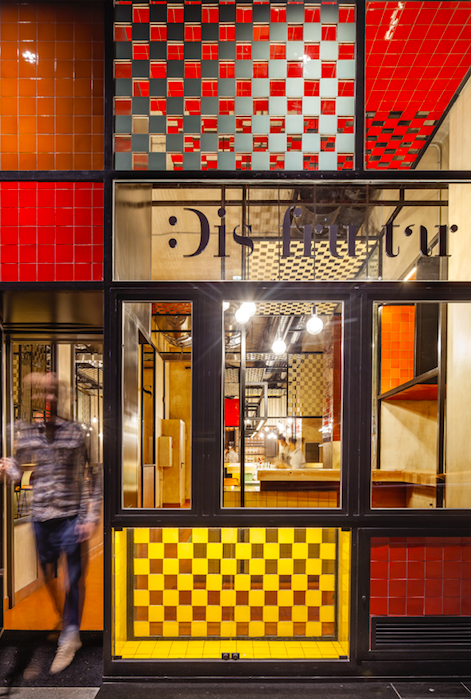 DISFRUTAR BARCELONA
c/Villarroel, 163
Barcelona 08036
+34 93 348 68 96
www.disfrutarbarcelona.com
SUQUET with Thornback Ray
Marie-Thérèse Verbruggen Meet Chef Mateu Casañas, one of the three creatives behind the internationally recognized,  two Michelin starred restaurant Disfrutar in Barcelona. Mateu and his business partners Chef Oriol Castro and Chef Eduard Xatruch met over sixteen years ago when they all three worked in the kitchen of world renowned restaurant elBulli...
Ingredients
For the Thornback Ray:
1 Thornback Ray of 2,5 kg
1. Clean the ray of its intestines and viscera. Save the liver for finishing and presentation.
2. Continue to peel each of its wings, keep skin for stock.
3. Cut the wings of the ray in 4 pieces and store in an airtight container in the refrigerator, keep body for stock.
For the fish stock:
The body and skin of the ray (instruction above)
Extra virgin olive oil
1 ripe tomato
For the tomato pulp:
3 ripe tomatoes, about 100gr/each
1. Cut the tomatoes in half.
2. Extract, with the help of a spoon, the seeds of each half.
3. Slice the tomatoes to extract all the pulp.
4. Store the pulp in an airtight container in the refrigerator.
For the  green pepper:
1 green pepper, 60gr
1. Wash it with water and cut the top of the stem.
2. Cut in half, from top to bottom, and extract all the seeds you can.
3. Cut each half of pepper into regular pieces about 3 cm long.
Other:
1kg Potatoes (peeled and chopped into regular pieces)
225gr extra virgin olive oil
Parsley
5 cloves of garlic
Salt
Instructions
1. In a saucepan about 30cm in diameter heat the olive oil, about half a finger of oil … As they say, to make a good Suquet: "Olive juice, whatever".
2. When the oil is lightly warm, add about 5 well minced cloves of garlic.
3. Before the garlic changes color add the cut green pepper, some chopped parsley and fry for a bit.
4. Then add the stored tomato pulp and fry for about 2 min.
5. Add the chopped potatoes and fry all together again for about 1 min.
6. After that, we add the hot (strained) stock and let the boil start.
7. Add salt to taste and when the potatoes are boiled add the ray which you've previously stored.
8. Finally, fry the chopped liver in a separate pan and add as a finishing touch.
9. Bon Appetit!
Notes
Suquet is a traditional Catalan dish which found its beginning as a hearty meal for fishermen who needed to use up the fish they were unable to sell at the market that day. Its name is the diminutive form of suc, or 'juice', in Catalan and you can use different kinds of fish to make it. Chef Mateu Casañas and his mother like theirs with Thornback Ray. Below you'll find the Casañas' family recipe in English and in Catalan. Happy cooking!